As a part of Team Ede, the pair won the Junior Men's Provincials in Swift Current on January 22, earning them the chance to represent Saskatchewan at Nationals.
After finishing third in the round robin games, they would face an uphill battle in the playoffs as an underdog. They earned a semi-final birth after defeating Team Zuravloff, 9-1, and would squeak through to the championship game to face a talented Team Bryden, who they lost to in round robin play.
Coming out hot and playing a full game, Team Ede would come out as winners in the championship game 10-5. The win was Hom's second green jacket at only 19 years old while their coach, Moskaluke earns his first green jacket in almost 30 years.
"The green jacket means the world to me, it validates all the hours on and off the ice I have put into developing myself as a coach and with that my ability to help young athletes be the best they can be," said Moskaluke(BSPE'91), head coach and current facilities manager in the Physical Activity Complex. "I shed lots of happy tears after we had won, and the smile still comes easy when I realize what we accomplished.

"I have a drawer full of silver medals; nice to finally get over the hump."
Hom, a second-year kinesiology student from Regina, SK has been curling for 10 years. He has competed in several championships in the past few years but looks forward to attending this year's Nationals.
"I look forward to going is seeing all the people that I met at the previous Nationals held in Oakville, ON as well as meeting new people. Talking to them on and off the ice is a cool experience because you get to learn about their own journey to Nationals and some unique stories they share."
The team will travel to Rouyn-Noranda, Quebec, on March 25-April 2, 2023 and the winners will represent Canada at the World Junior Curling Championships in 2024, in the Kisakallio Sports Institute in Lohja, Finland.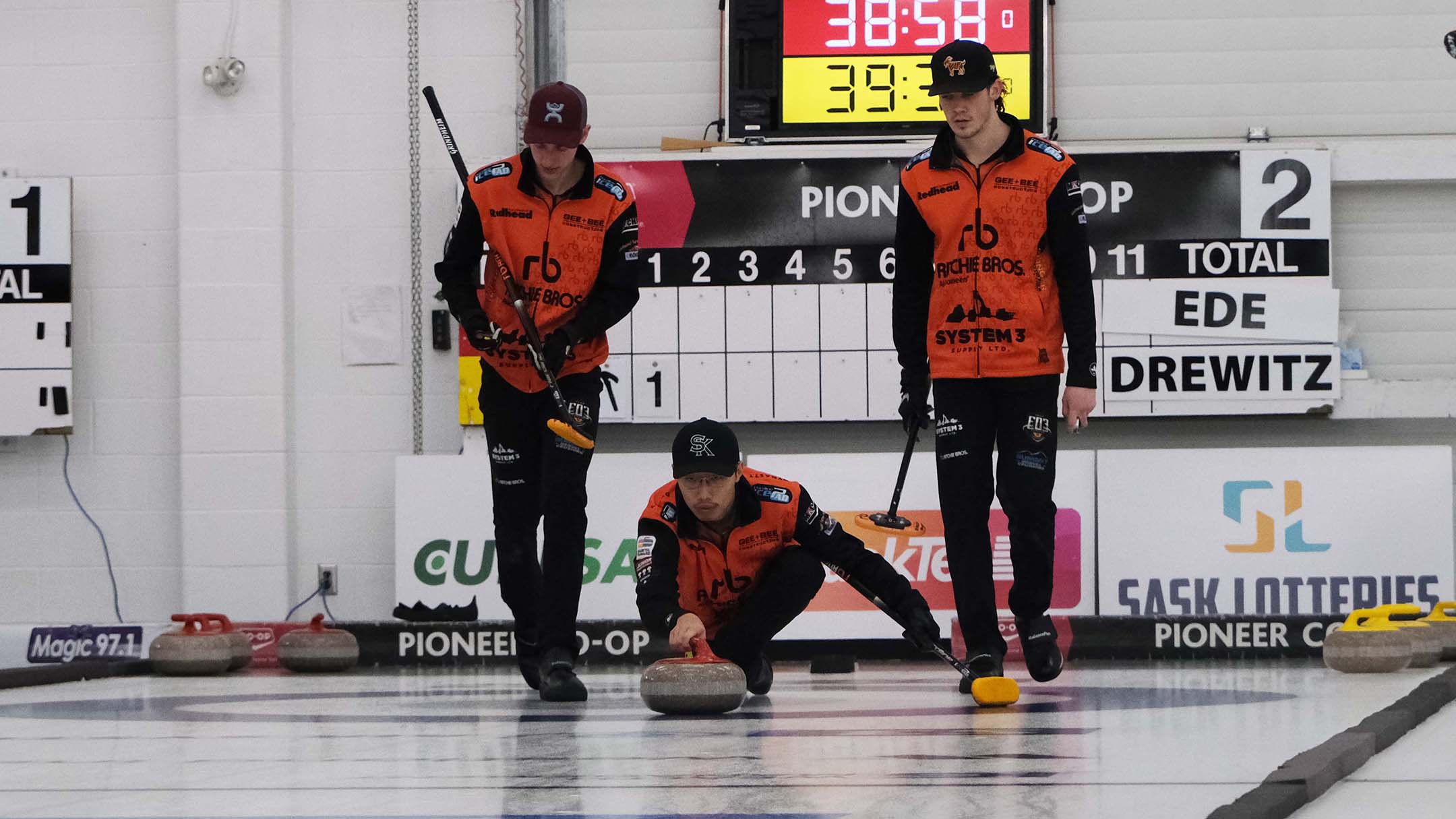 "It would mean the world to me if we won Nationals. The group of guys that I play with are the most fun I have had on a curling team. We trust each other and we know what to say if they have a good day or bad day," said Hom. "Being able to play at a World's event is a dream of mine that I really want to accomplish one day, especially with this group. We have worked hard to make sure we got to represent Saskatchewan after losing the Provincial final in 2021 and the provincial semi-final in 2022. It would be a dream come true to represent Canada."
To compete in the medal rounds, Team Ede will need to finish top three in their pool at Nationals.
"I am looking forward to the challenge of preparing the guys each and every day to be at their best," said Moskaluke. "I will no doubt learn a lot about myself, and I know I am going to soak everything in and have some fun along the way too."
The excitement is high for Team Ede as they are set to compete against the best junior mens curling teams across Canada.
Team Ede consists of;
Lead, Austin Krupski
Second, Michael Hom
Third, Brayden Grindheim
Fourth, Logan Ede
Coach, Roger Moskaluke
Coach, Gerry Adam