Heart disease and stroke are a leading cause of death and disability among Canadian women. Our understanding of reasons underlying these observations is limited, in part due to gaps in awareness, prevention and research.
In 2018, the Canadian Institutes of Health Research (CIHR) joined forces with the Heart and Stroke Foundation of Canada (Heart & Stroke) to help fill these gaps and improve our understanding of the unique biological, behavioural, structural and social factors that contribute to the higher risk of poor outcomes from cardiovascular disease and stroke among all women.
Together with the New Brunswick Health Research Foundation, CIHR and Heart & Stroke awarded Women's Heart and Brain Health Chairs to four outstanding early- and mid-career researchers. The CIHR funding was provided by the Institute of Circulatory and Respiratory Health (ICRH), Institute of Gender and Health (IGH), and Institute of Indigenous Peoples' Health (IIPH).
Not only are the Chairs providing critical answers and solutions to this problem, they are also helping to train a new generation of investigators equipped with the skills and knowledge to advance much-needed research in this often overlooked field of science and clinical care.
"By co-investing with our trusted Heart & Stroke partner, these Chairs helped build capacity and supported research in areas where gaps in evidence have been identified. The five-year program reaffirmed CIHR's commitment to addressing health inequities for women, especially Indigenous women, who experience negative health outcomes in cardiovascular and cerebrovascular conditions. Our investment also demonstrated an ongoing commitment to capacity development for early and mid-career scientists, particularly those working in heart and brain health research," says Dr. Brian Rowe, Scientific Director of the CIHR Institute of Circulatory and Respiratory Health.
Historically, about two-thirds of the clinical research conducted into these diseases has focused on men. That's slowly beginning to change. In 2016 the federal government committed more than $5 million over five years to advance research into women's brain and heart health. The funding from Heart & Stroke and CIHR Institutes supported 26 research projects, including $3 million for the four research chairs.
"We know that women are at higher risk of dying or developing heart failure following a heart attack and suffering unnecessarily, and that's because we don't understand well enough the differences between women and men's hearts and brains," said Christine Faubert, PhD, Director, Health Equity & Mission Impact at Heart & Stroke.
Most Canadian women have at least one risk factor for heart disease and stroke at different points in their lives. Causes include estrogen in birth control pills, conditions associated with pregnancy (e.g., hypertension and gestational diabetes) and menopause. Yet many women are unaware of these risks and don't know how to recognize the symptoms early enough to improve outcomes. Moreover, many doctors miss the warning signs.
"Without more research on the unique symptoms of heart disease and stroke in women, it's difficult for health care professionals to detect, manage and improve the outcomes for these conditions," adds Faubert.
The new research Chairs were established as a critical step to correct some of the historical disparities and access to care that women faced in Canada. For example, several social and cultural factors such as race, ethnicity, socioeconomic status, education, sexual orientation and place of residence can increase your risk of disease as well as create barriers to care and support. The challenges are especially acute for Indigenous women who are more than two times as likely as non-Indigenous women to die from heart disease and stroke.
Findings from the Chairs' research have informed the development of gender-appropriate care that is also culturally relevant and safe. Heart & Stroke and CIHR will both use the results generated from these Chair recipients to inform future research, awareness and education, as well as policies and advocacy that improve clinical care for women.
"We will also look for opportunities to leverage both western and Indigenous knowledge to address some of the gaps in health promotion, treatment and research that impact Indigenous women," adds Dr. Faubert.
Early Career Women's Heart and Brain Health Research Chairs
Rediscovering the healing potential of Métis culture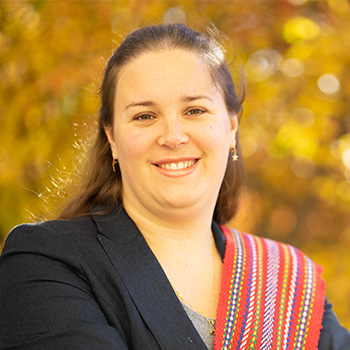 Dr. Heather Foulds wants to know why recent advances in treating heart disease and stroke are failing to help Indigenous Peoples, particularly women. The Métis scholar is examining social and cultural factors for both answers and solutions.
"We're missing that gap on the connection with community and connection to culture which are important parts of an Indigenous world view," she said.
With a team that includes Indigenous community advisors, students and research assistants, Dr. Foulds is studying risks beyond the typical physical contributors to heart disease and stroke, such as cholesterol, blood sugar and obesity. She has found that other factors such as spending time on the land, community support and traditional food can reinforce physical activity and healthier living.
"I'm hearing about the need to get back on the land to de-stress and recharge," she said.
Cultural practices also offer potential solutions. In a related project, Dr. Foulds found that traditional Métis dancing not only offers a great cardio workout, it also strengthens community and cultural connections.
Dr. Foulds credits the Chair position with building capacity in this under-researched field. Last year she was awarded tenure and a promotion at the university, "a year earlier than I normally would have been on track for". She has also strengthened collaborations with other organizations, including the Network Environments for Indigenous Health Research and the Canadian Women's Heart Health Alliance.
"Not many of us are looking into Indigenous women's health so it's great to be able to bring that piece into the bigger picture of women's health."
Developing a culturally-sensitive approach to physician training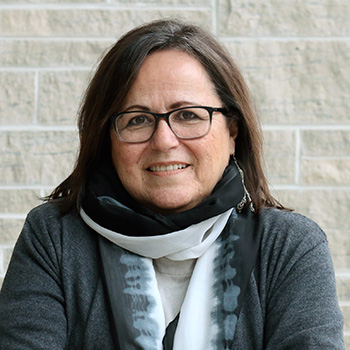 The headlines are all too common. Another Indigenous person has suffered needlessly, or even died, as a result of the systemic racism and discrimination in Canada's health care system.
But blaming the caregivers won't solve the problem, said Dr. Bernice Downey. She points to a lack of education and training that could help healthcare practitioners work with Indigenous women in a culturally safe way that fosters trusting relationships, and ultimately improves health outcomes.
"I see a lot of health professionals who want to help but they don't know how," said Dr. Downey, a medical anthropologist and former registered nurse of Ojibwe and Celtic heritage.
Addressing that gap starts with examining how factors such as trauma, stress and grief, as well as gender roles, relationships and interactions with the health system, contribute to negative cardiovascular disease and stroke outcomes. Dr. Downey heard about these risk factors first-hand through storytelling circles with Indigenous women, their families, and community members.
The next step is to develop a curriculum for healthcare practitioners that focuses on the needs of Indigenous women. The training will draw on both Indigenous and Western knowledge systems and contribute to the fostering of improved relationships between the women and their practitioners. It is expected that this will empower Indigenous women in the self-management of their heart disease and/or risk factors.
"The approach we're advocating for could also potentially inform healthcare approaches related to other chronic illness like diabetes," said Dr. Downey, whose research team currently includes two graduate students, one of whom is Indigenous.
"This Chair position has allowed me to address questions and conundrums that I have dealt with all through my nursing career," she added. "Now I'm getting an opportunity to advocate and present evidence that this harmonized approach for health care for our people can work."
Novel blood tests could detect heart disease risk from cancer treatment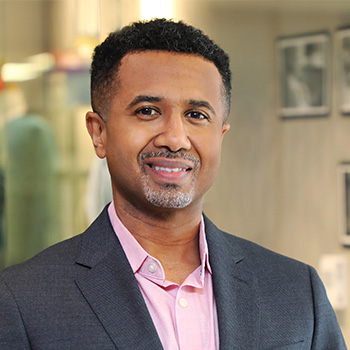 More people than ever are surviving cancer. Unfortunately for some women, many life-saving cancer treatments can also weaken their hearts.
In a unique project that will involve 300 women receiving chemotherapy for breast cancer, Dr. Husam Abdel-Qadir is studying if certain blood tests can detect those at greatest risk of developing heart disease.
"We have absolutely no way of knowing whose heart is going to get weaker and whose isn't. It's a mystery," said Dr. Abdel-Qadir, MD, a staff cardiologist at Women's College Hospital in Toronto.
Chemotherapy isn't the only risk being examined. Data will also be collected on the mental and emotional stress patients endure throughout their cancer journey, as well as their levels of physical activity and diet.
Then there's the "chemo brain" some cancer survivors experience after treatment.
"Cardiologists know other kinds of cognitive dysfunction can be linked to some forms of heart disease, particularly atrial fibrillation. I hope to find out whether survivors who have this mental fog are more likely to have heart problems," said Dr. Abdel-Qadir.
Blood samples will also be collected before and after treatment to search for biological markers that may identify which women are most at risk.
"Once we have that insight, we can look at modifying their treatment plan, prescribing medications that protect their hearts from the effects of chemotherapy and following them more closely over time."
Dr. Abdel-Qadir credits the Chair appointment with advancing research in this important field. "It has allowed me to get salary support, as well as pursue related research, such the link between atrial fibrillation and other aspects of health. It's given me the credibility to secure the recognition and funding to take on these new research frontiers."
Reducing the risk of heart attacks and stroke after pregnancy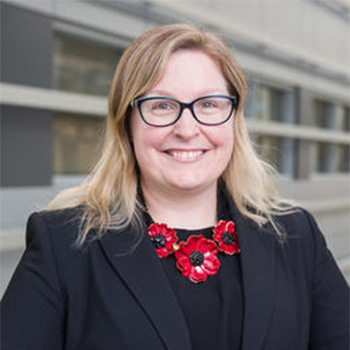 A new national network is establishing clinical practices that could nearly eliminate the risk of new moms with high blood pressure from developing cardiovascular disease later in life.
Between 15-20% of all pregnancies in Canada result in several common conditions that increase the risk of premature heart disease and stroke, including preeclampsia, gestational hypertension, gestational diabetes and preterm birth.
"About 20% of all women in Canada develop a wide range of diseases during pregnancy that increase their future cardiovascular risks," said Dr. Kara Nerenberg, MD. "We need better tools to identify and manage these women."
Dr. Nerenberg already made significant progress in identifying those women at highest risk and how healthcare providers can provide the most effective care.
She helped establish the Canadian Post-Pregnancy Clinical Network, which connects over 20 postpartum prevention clinics across the country. The group has developed best practices that could reduce women's risk of developing cardiovascular disease after pregnancy by as much as 90%.
The next step is to ensure these practices reach as many women as possible by implementing them into primary care, specialty care and other health systems opportunities, such as local pharmacies, public health and infant vaccination programs.
"The large majority of Canadian women don't receive any education on how to manage their increased risk after these pregnancy conditions. We're hoping our guidelines will standardize care across Canada."
Dr. Nerenberg said being a Chair holder was a definite asset in her promotion to Associate Professor and in securing additional research funding. It has also enabled her to engage several trainees who are critical to building capacity in this emerging field.
"Together, we've identified the gaps and strategies to implement clinical care at multiple levels to help young moms at risk."
You can find out more here: https://cihr-irsc.gc.ca/e/53487.html