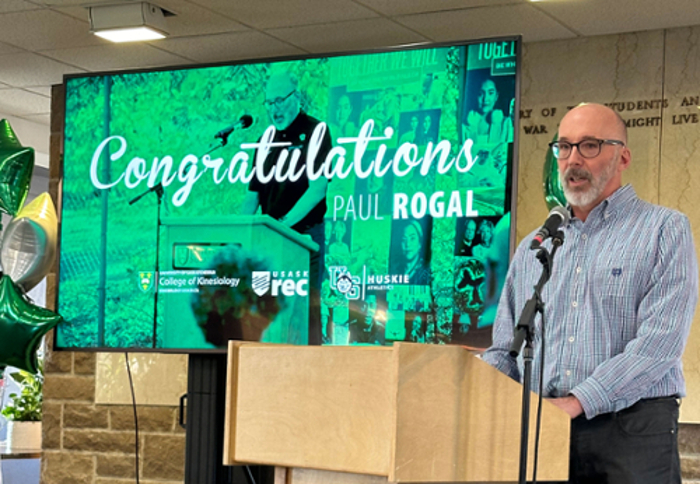 Paul has dedicated 32 years of his life to the College of Kinesiology and recreation programs. It started as a student and Huskie athlete in 1984 and will come to an end on December 31, 2023. As a student, Paul was a committed student-athlete as he competed for the Huskie football and track and field teams. He transitioned from student-athlete to a permanent staff member in the Campus Recreation office in August of 1991.
Throughout the years, Paul held multiple positions within the recreation department before becoming the Director of USask Rec.
"My first job ever was provincial coach for Saskatchewan Badminton. I then worked for Football Saskatchewan before taking the position of Campus Rec Coordinator. The Campus Rec job wasn't really on my radar, I thought I would stay more in sport or sport governance, but the job looked interesting and after a few discussions I was fortunate enough to be offered the job," said Rogal. 
32 years is a long time to stay in one place but his dedication to serving the campus and Saskatoon community were something he took pride in each day he came to work, and no challenge was to great.
"I stayed at USask because I was lucky enough to have a number of very interesting and unique opportunities in my career here including; the planning, construction, and operation of both the Physical Activity Compex (PAC) and Merlis Belsher Place. I also love being around all the students because the bring so much positive, fun energy every day."
Paul has served as the Director of the evolving student recreation and community programs for over twenty years as it grew and transitioned from the Community Programs area to what we know now as USask Rec.
"Paul has been a central part of the College of Kinesiology and USask Rec that has experienced some significant changes over his career. He played a key role in the design, operations planning, and the building of the Physical Activity Complex, Merlis Belsher Place, and the redesign of the KW Nasser tennis courts among many other projects," said Interim Director and previous Campus Recreation Coordinator, Cary Primeau.
During his tenure with the College, Paul has been a leader and champion on our campus for creating opportunities for physical activity that are open to students, faculty, and staff, as well as the wider community. He has also been at the forefront of ongoing conversations on creating inclusive spaces at USask.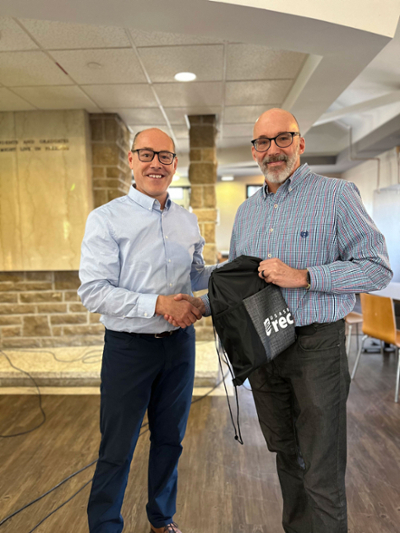 As part of his role, he has been creating and maintaining connections both at the University and in the wider community.
"Paul has always advocated for USask Rec and the students at the University of Saskatchewan.  His influence and commitment to enhancing the student experience will be missed, as will his "contributions" to the office potlucks, the annual masters draft and (sadly) his collection of Green Bay Packers paraphernalia proudly displayed in his office," laughed Primeau.
Paul states that his most memorable and best experience was moving into the PAC after five to six consecutive years of planning. To move from an old, condemn building to a brand new, state-of-the-art facility in 2003, is something he will never take for granted. He often reminds his colleagues how lucky we are to work in a building with fitness amenities three minutes from our workspaces.
When asked who he wants to thank; he was quick to mention two prominent people who helped shape his career; Don Fry for hiring him and being his mentor (still), and his family, especially his wife Pat for putting up with him generally.
As Paul enters retirement, USask Rec has named Cary Primeau as the interim Director of USask Rec. Cary began overseeing operations and management of USask Rec programs effective November 1, 2023.