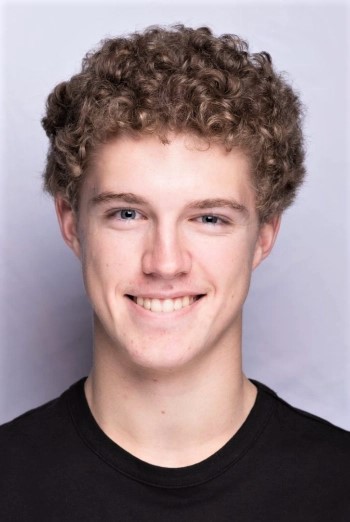 The second-year College of Kinesiology student dedicates his time to studying and training in competitive diving.
As a member of the Saskatoon Diving Club, Wiens dove into the international sports spotlight when he qualified for the Tokyo Olympics in the summer of 2020 at the age of 18. His competitive diving career began when he was just seven years old, earning his first national junior title at the age of 10.
Wiens' latest international competition was his most successful, earning two medals for Canada in the Commonwealth Games in Birmingham, England, this past summer. He competed in the 10-metre individual platform event, the 10m synchro competition with Nathan Zsombor-Murray, and the 10m mixed synchro dive with Celina Toth.
"My goal heading into Commonwealth Games was to perform exactly like I know how. I also wanted to go into the Games and grab as many medals as I could," said Wiens, a 20-year-old from Pike Lake, Sask.
In the men's 10m dive preliminary round, he sat in fourth place, with a plan to save some energy for his third and final dive. Climbing to the top of the tower preparing for his last dive, he smiled at his coach and felt confident moving towards the edge. Wiens' dive earned a score of 492.80 to earn his first silver medal of the Commonwealth Games.
His next contest was the men's 10m synchro dive with teammate Zsombor-Murray. The pair combined to climb the medal podium once again, earning Wiens his second silver medal of the Games.
"I was very proud of the two silver medals I came away with, but I felt like I had the ability to dive even better, so I am left motivated and training even harder to get the gold," he said.
Between diving competitions, Wiens is working hard in pursuit of his kinesiology degree at USask.
"Training and working towards my degree in kinesiology takes a lot of commitment as well as juggling," he said. "I have been only taking three classes per semester to allow for me to spend 27 hours per week at the pool training." 
As the university has transitioned back to in-person learning, Wiens has enjoyed the social aspect but is finding it a little challenging managing his course-load while also travelling to compete.
"When I have time to work, I need to make sure that I make the best use of my time and put my head down," he said.
Wiens has now set his sights on his next international event as he trains for the World Championships set for the summer of 2023 in Fukuoka, Japan. Following that competition, Wiens will focus on qualifying for his second Olympic Games in 2024.
"My goal is to get there and come away with a medal," he said. "It would mean everything to fulfil my dream of being an Olympic medalist."