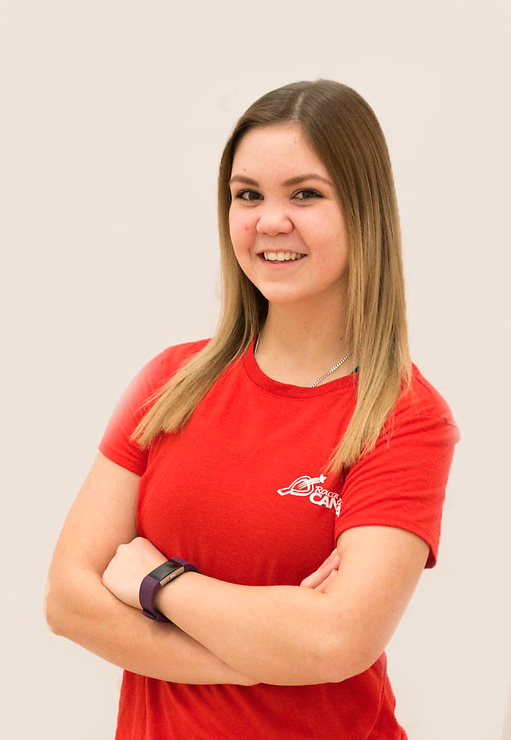 Prentice was introduced to the sport at just five years old because her uncle owned RiverRacquet. She watched her brother, Tanner Prentice, enjoy the sport and it didn't take long for her to follow suit.
"My favourite thing about racquetball is definitely the adrenaline felt within the competitive environment of the sport," said Prentice. "However, I also love the family-like community aspect of the sport and the opportunities to travel the world while representing my country."
Prentice is a third-year kinesiology student and trains once a week at the Physical Activity Complex with other Team Canada members and her coach, Tim Landeryou. On her days off, you can find her practicing solo on the courts between classes and homework.
"My studies through the College of Kinesiology have helped me prepare as an athlete by enhancing my time management skills to train for racquetball. There are several aspects of classes that I have been able to apply to my training to make sure I am getting the greatest benefits from the different programs I complete."
This will be Prentice's first elite international tournament with Team Canada. As a junior athlete, she competed for Canada at five Junior World Championship events, winning silver in 2018 in doubles. She also recently won gold in women's open doubles at the Canadian Championships held this past September.
"I am excited to be competing in my first Pan Am Championships! I have played on the world stage for Canada as a junior and I'm happy to continue my journey fulfilling my dreams as a Team Canada athlete."
Prentice has had many influencers throughout her career, but none as big as her brother, Tanner. From an early on encouragement on the court to becoming her biggest cheerleader off it, family has been her biggest inspiration throughout the years.
"I just want to thank all of my friends and family who have been there to support me throughout my journey of fulfilling my Team Canada dreams."
A full bio for Cassie Prentice can be found here.