Dr. Chad London was appointed as dean in 2016 and began his second term in 2021. He is currently on administrative leave.
He has been an exceptional leader and dean, and a valued colleague. His accomplishments leading the college are many including:  
Envisioned, developed and implemented an unprecedented enrolment growth plan in the college that resulted in a 40% increase in students (including a 32% increase of Indigenous students) from 2016-2021, and introduced new faculty and staff resources to increase research capacity and enhance the quality of the student experience.
Launched a revamped combined degree (B.Sc.Kin/B.Ed) with the College of Education, with the first-year intake achieving its target of 30 students (an increase of over 300% from the previous year).
Facilitated enhanced research focus and supports in the College that resulted in a 20% increase in the number of faculty members holding tri-agency grants, a 185% increase in all external awarded research funding, a 1,100% increase in tri-agency funding, and a 36% increase in publications (as per the Scopus database) from 2016 to 2021.
Unveiled the Don Bailey Lecture Series, a 100% donor-funded speaker series that features experts from across the globe, presenting on a broad range of kinesiology-related topics.
Provided leadership in the final stages of fundraising, design, construction and programming of Merlis Belsher Place, a $51M on-campus ice and court sport complex.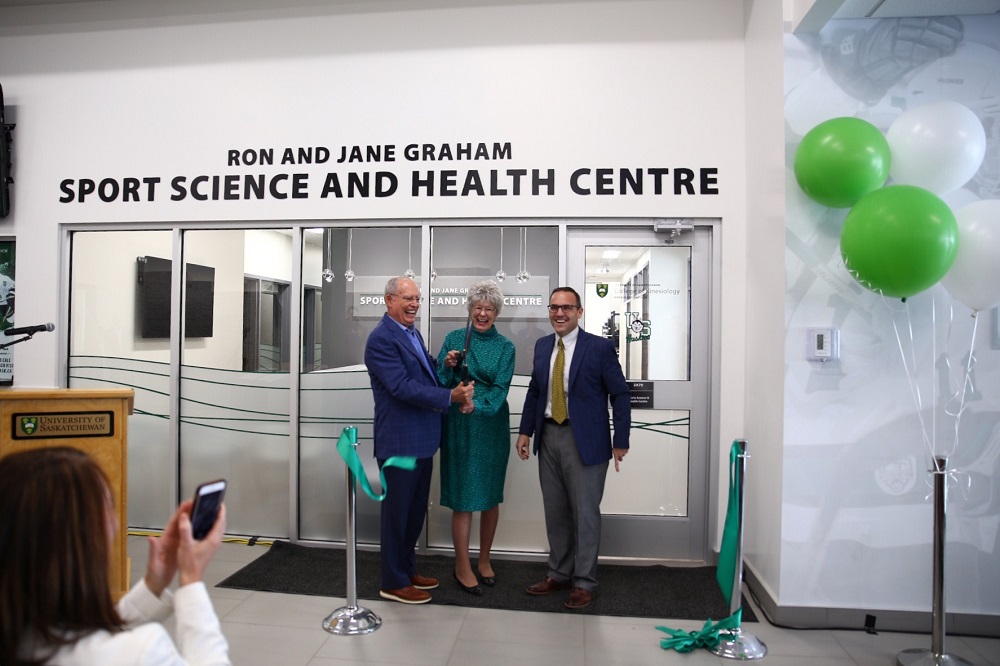 Launched the Youth Leadership Through Sport program for Indigenous youth through a $50,000 grant in partnership with the Saskatoon Tribal Council.
Oversaw the offering of the 4 Seasons of Reconciliation program for students, staff, and faculty in the college, and sponsored the Orange You Ready
Received a $2.1M donation to create the Ron and Jane Graham Sport Science and Health Centre, a 4,700 square foot interdisciplinary research and practice space that provides practical and bench labs, physical and psychological services, and sport physiotherapy.
Stewarded a $3.14M grant from the Government of Saskatchewan to replace the turf field and upgrade the lighting at Griffiths Stadium and solicited a private donation of $500,000 to redevelop outdated tennis courts on campus into an outdoor sport court complex.
Initiated USask's signing of the Okanagan Charter and its accompanying formal commitment to embedding health in all aspects of campus culture and promoting wellbeing locally and globally.
Launched a new governance structure for Huskie Athletics which included serving as Vice-Chair of the Board of Trustees, and co-sponsored a full review of Huskie Athletics by an external expert panel of reviewers.
Beyond the college, Dean London has been an outstanding leader for the wider university. His many contributions at this level include oversight of Huskie Athletics, and service as a senior member of the Deans' Council and Senior Leadership Forum.
Dr. Joel Lanovaz was previously appointed acting dean until June 30, 2023 during the period of Dr. London's planned administrative leave. Dr. Lanovaz will continue in the role for this period. Information on the search to appoint a new dean, College of Kinesiology will be forthcoming.
Please join us in congratulating Chad on his new role and expressing our great sense of appreciation and genuine respect. We wish him all the best and we know he will do incredible work at Mount Royal.