There was a point in Myranda Reimer's (BSKin'14, MPT'17) life when she started noticing the women around her expressing concerns about their pelvic health.
She was transitioning from a Bachelor's degree in Kinesiology to a Masters in Physiotherapy when an older female friend confided in her about trouble controlling her bladder and the traumatic surgery she had to stop her leakage.
Then, her best friend's sister had a baby. She was cleared for exercise and eager to return to her active lifestyle, but started experiencing pelvic pain and was told she would likely never run or lift weights again.
"That was the moment when I realized women are having concerns and it really doesn't seem like there's a lot of information or support for (them) to kind of get over this hump of 'Yeah I feel better day to day, but as soon as I get into some of that heavier lifting or higher impact, things kind of start to crumble,'" Reimer says in an interview with the Saskatoon StarPhoenix.
"My older friend's story got me interested, and maybe got me listening a bit more to the women in my life, and my friend's sister, her story scared the s — out of me."
The 30-year-old, who says she's been called a "meaning maker," took her curiosity and fear and turned them into the cornerstone of her career, becoming a women's health physiotherapist with pelvic floor certification.
Reimer runs her business, Myranda Reimer Physiotherapy, out of an office at Synergy Strength and Conditioning in Saskatoon. There's a big blue "peanut ball" to help support positions during labour tucked behind a table, and pelvic models on her desk.
It's a small space built on a big dream to help women feel confident moving through all stages of their lives.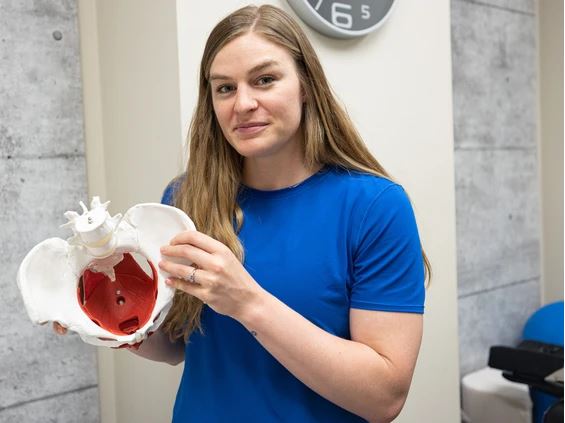 "She is very creative and if she sets her mind to it, she can do it. She has a thirst for life," Reimer's mom, Laurie, said.
Reimer was 11 years old when she started playing competitive soccer and made Team Saskatchewan.
She was living on a farm near Swift Current, but the family decided to move to Saskatoon to help Reimer pursue her dream of playing soccer at the national level. They travelled all over the province for soccer tournaments, so the move made sense. Reimer was in Grade 10 at the time.
"I went to bed, I woke up in the morning from the age of about 12 all the way to 15, 16, 17 years old, I was like 'I'm going to play for Team Canada,'" Reimer says.
Laurie could tell her daughter was naturally athletic and driven, and believes sport helped shape who Reimer is today.
"Playing competitive sports shapes you to learn how to work toward a goal and work as a team. You have to be focused on the 'plan' and the process to get there. You see the world more openly and accepting."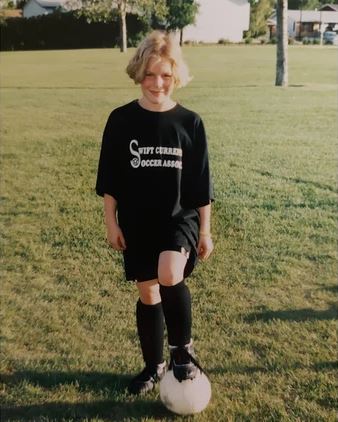 She went to the 2009 Canada Summer Games and multiple national championships, but never actualized her Team Canada dreams. As her competitive soccer life faded around 20 years old, a new passion emerged.
Reimer saw physiotherapy as a natural extension of her love for movement and exercise, which included running, biking, ultimate frisbee, CrossFit and weightlifting. She said the women whose stories had sparked her interest in pelvic health had sought the help of a physiotherapist and were able to get back into the exercise they desired.
But she was still perturbed by the underlying messaging that women must squander their athletic passions as they age, have kids or have surgeries. She didn't want to stop doing high-performance activities and worried about what would happen as she got older and had a family.
"I saw a big gap in support for women who wanted to continue to be on that higher end of athleticism, because athleticism is a spectrum," she says.
In 2017, Reimer earned her Masters in Physiotherapy from the University of Saskatchewan's School of Rehabilitation Science.
"Myranda excels at thinking outside the box and seeing the big picture of things. She was never afraid to ask hard questions of me and demonstrated that she truly sought to learn and understand the material at well beyond a basic level," said Scotty Butcher, one of Reimer's professors.
After graduating, Reimer started taking courses specifically targeting the pelvic area, which contains the bowels, bladder and sex organs. She spent five years searching, and thirsting, for continuing education. There were trips to Toronto, virtual training, conferences and talks from visiting physiotherapists whom she admired.
"That was my big first exposure to starting to understand that challenges come up in our life, however, there are professionals and approaches that can help you move through those challenges, one being pregnancy or postpartum — how the female body naturally adapts and changes," Reimer says, adding it made her realize how little she knew about her own pelvic health and menstrual cycle.
Butcher saw the value in Reimer's specialty and asked her to return to the U of S to help teach his classes.
"Students find her extremely relatable and are often amazed by the amount of knowledge and skill she has developed in her relatively short time in this profession. She is quickly developing the confidence and skill as an instructor and it is obvious to anyone working with her that she will speak well about things she knows well, and will quickly strive to learn more about the things she doesn't," Butcher said.
He said Reimer's unique ability to bridge the gap between conventional rehabilitation and advanced, high-performance training has "exponentially enhanced the student experience."
Read the full article at https://thestarphoenix.com