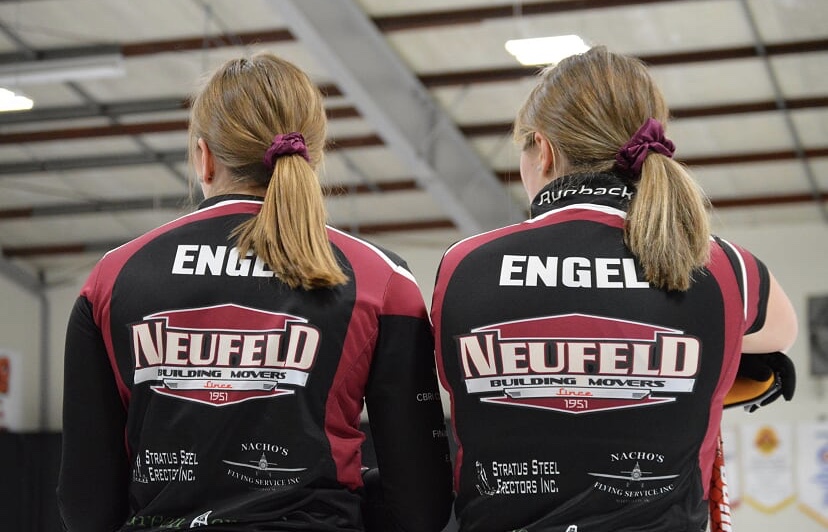 Sisters, and students, Paige Engel (3rd year Kinesiology) and Mary (2nd year Business), Ashley Thevenot (4th year Agriculture) and Rachel Erickson (3rd year Agriculture) competed from December 27 – January 1 in the 2020 Saskatchewan Junior Provincials. A win would secure them a berth in the Canadian Junior Curling Championships.
The format of the tournament was a seven-game round robin. Team Thevenot found themselves sitting at 6-1 after the round robin, earning them a #2 position heading into the playoffs. Their only defeat came at the hands of Team Ackerman, who they would face in the championship final.
"The final was very nerve-racking because there was so much pressure put on both our team and Team Ackerman because we both had very successful weekends leading up to the final game. In the last end, we both played a very strong game; however, we were able to put our final rock in the perfect spot to make their shot quite difficult," said team lead, Mary Engel.
The game was heavy with compete as it came down to the last rock. Team Thevenot was able to claim the championship title, 7-5 and secure their spot in the 2020 New Holland Canadian Junior Curling Championships representing Saskatchewan.
"Provincials this year was such a great experience. This was my last year that I was eligible for U21 competition and it couldn't have been better," said third year kinesiology student, Paige Engel.
"Our team connects so well with one another and our chemistry couldn't be better. In addition, we had some great games against some very talented young women, many of whom we consider our friends. It's not something you see a lot in sport, where everyone on the ice are close friends."
This is the first Junior Provincial title for Mary (lead), Paige (second), and Ashley Thevenot (skip), and the second title for Rachel Erickson (third) as she won last year. In addition to the players, their coach, James Malainey will also head to Langley, BC to help the team compete.
"We are really looking forward to Langley. I am looking forward to challenging my skills in a very talented and tough competitive field. We have played multiple world curling tour teams in the past such as Jennifer Jones' team so it will be interesting to see where we match up against strong competitors that are our age," said Mary Engel.
The winners of Nationals in Langley, BC will move on to represent Canada at the 2020 World Junior Championships in Krasnoyarsk, Russia in February 2020.
Team Thevenot has spent time travelling over the past two seasons, competing in Alberta and Manitoba Junior events, along with many Sask Women's Curling Tour Events. But with travel on the weekends and the odd weekday, it means extra time on home work for these athletes.
"Balancing school and competition can be challenging at times, but so many of my professors have been great about helping me manage while I'm away. The biggest thing is just being proactive when it comes to course work," said Paige Engel.
Mary is a current marketing major with hopes to work in the sport industry. Paige is a kinesiology major and hopes to continue on in occupational therapy.
Good luck to Team Thevenot as they continue their quest to represent Canada!