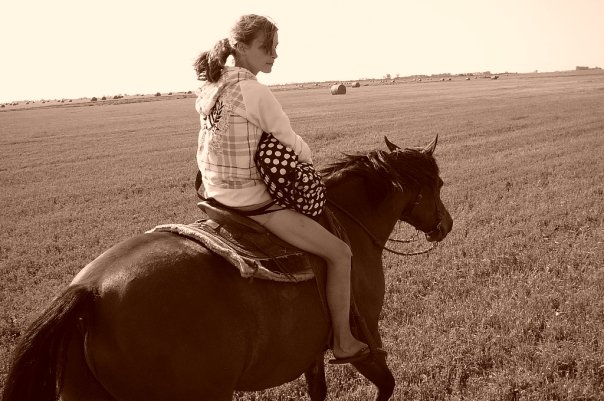 After months of rest and recovery, Shaw looked to therapy to help her regain feeling and motion to continue back to the sport she loved. Unfortunately, she never regained full function and wasn't able to compete at the level she once could, leaving her with a career-ending injury.
"I was constantly comparing myself to the hockey player I used to be and would never be again," said kinesiology research assistant, Keely Shaw. "Hockey wasn't that enjoyable anymore and it brought me more frustration than anything."
Shaw tried to get back on the ice for six seasons to find the passion for the sport she once loved, but it never came. Shortly after, she hung up her skates to try and find her identity once again.
As she continued taking kinesiology classes and working out in the Physical Activity Complex (PAC), a fellow student noticed her natural athletic ability and approached her about para-sports. "I went with her to meet her strength coach who confirmed that I would qualify as a para-athlete and encouraged me to pick a sport." At first, she tried sit-skiing because there was a good coach in the area but quickly realized that it wasn't for her.
Para-cycling seemed like the easiest choice as Shaw commuted daily on a bicycle throughout the summer. Shortly after, she purchased her first high-quality road bike and there was no doubt in her mind, she was hooked.
Shaw performs most of her training in Saskatoon and spends anywhere from 10-20 hours weekly out on the Saskatchewan highways surrounding the city. With a relatively flat landscape in Saskatchewan, Shaw finds opportunities to head out to Quebec to train with her coach and experience a new terrain. Most winters, you will find Shaw on an indoor trainer in her basement but this past year was different. "We went to Hawaii for two weeks with the team for some base miles, which was a super welcome break from the Saskatchewan winter," laughed Shaw.
Juggling school and racing has become a balancing act every year but Shaw says she is incredibly fortunate to have such an understanding team in both realms of her life. Her professors in the College of Kinesiology are very accommodating and flexible when she needs to leave for a race. "They offer a Skype in option which allows me to stay involved and updated." Not only does Shaw take classes, she is also a research assistant in the college.
When asked if she felt her two worlds benefitted each other her answer, "absolutely."
"I feel the two areas work together as I am constantly reading about cycling, fatigue, and recovery. It broadens my mind to options that I can do to help expedite my own recovery." Shaw knows that there is still more to learn and grow from. "What the physiologist part of me knows I should do isn't always what the cyclist part of me wants to do, but really I'd probably be a stronger cyclist is I was able to take a step back sometimes and use my physiology knowledge more.
Most recently, Shaw won a silver medal at the 2019 UCI Para Track World Championships held in Apeldoorn, Netherlands. Once she qualified for the medal round, she spent her time back in her hotel trying to recover as quickly as possible to be ready to compete for a world title. "Winner silver was such a surreal experience. I am super fortunate to have such an amazing team backing me," said Shaw.
From looking for a new identity, to finding a new passion and reason to compete, Shaw would tell anyone dealing with an injury to put their whole soul into it. Major injuries or illnesses can a become a defining feature of a person, but the reality is that there is much more to that person that the eye can see. "I feel that it is important for people to remember that they are more than whatever happened to them," expressed Shaw.
With the academic year ending, what's next for Shaw? "As we transition from track season to road season, my goal is to remember how to race for longer than 3km," grinned Shaw. "In all seriousness, I am looking for a top half finish in one of the World Cups coming up." Finishing in a top spot at the World Cup is a qualifying criteria for Road World Championships in September. If Shaw can get herself into a qualifying position, her dream of competing in the Paralympics are not far out of reach.